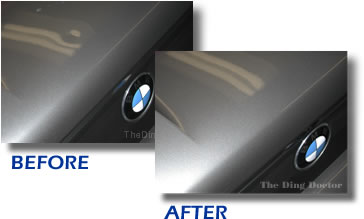 We know dents, inside out.
The Ding Doctor can repair everything from door dings and small dents to minor fender benders-as long as the paint has not been cracked and the metal is not stretched or crimped.
It's called Paintless Dent Removal, and no one does it better than us.

Specially designed tools and state-of-the-art techniques are used to meticulously remove imperfections. By carefully massaging the damaged area from the inside out, we can return your car's surface panels to their original shape, without damaging the paint.

You won't believe the results! Our customers call it "magic", but it's actually just years of experience with a truly innovative process that works! Fully licensed, insured and all repairs are 100% guaranteed to your satisfaction.

Our primary service is the removal of minor dents & dings through the process of Paintless Dent Removal (PDR). We also offer minor paint touch-up, minor surface scratch and scuff polishing and windshield chip repair on a limited basis with any qualifying dent removal.


It is this wealth of experience and our passionate desire to be the best craftsmen in our field while providing the best customer service possible that set us apart. We welcome the opportunity to earn your trust while showing you what we do best, should you have the need.

Give us a call, you'll be glad you did. I guarantee it!
Michael Bates (858) 674.4500
mike@dingdoctor.net

The Ding Doctor has been exceeding customers' expectations in San Diego since 1998 and we have been perfecting the dent removal process since 1985. The Ding Doctor a is locally owned and operated family business.

No other company in our field offers our level of experience and commitment to customer satisfaction.